As always I've been chatting and following new blogs and bloggers and I found a topic I hadn't really thought about, Nude.
It was Chanel of
Chanel's Beauty Bible
who put this question to the world, so read this post!!!!
Then I saw a tweet by
Betty at Beauty by Betty
"Same Shade, Different Tones"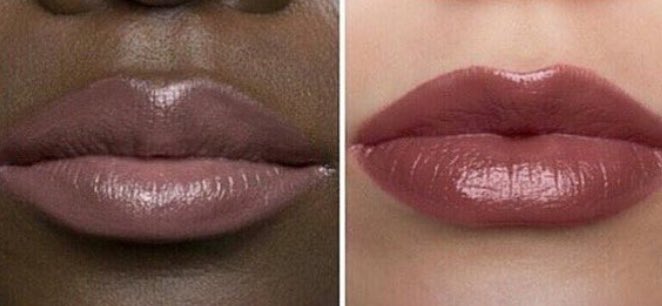 Then my girl Christina of Styled to the T, read it!!! did a collaboration with a group of bloggers showing Spring Lippies for darker skin tones!
I had never really given "nude" a second though, I'm just not into the shades usually!!!? But maybe the fashion and beauty world should be!!!!
What is nude?
The colour of naked flesh???
But we are all different colours, tones and shades!
I know I can't find "nude" clothes the colour of my skin, I tried looking for fabric to make a nude dress and it just wasn't happening!
"Nude" clothes are all kinda beige-pink, I don't have pinkish skin, if anything I've more yellowy (not jaundiced or a Simpson) undertones... I kinda tan well if I'm out in the sun, it hasn't been happening recently! (What's with the weather???) maybe sallow-ish?? So I can find nude paler or pinker than my skin, and I'm pretty pale, so what if I was even darker??? I'd have no hope!!!
But good new Christian Louboutin had started to tackle this problem check out his The
Nude Collection here!!!
The beauty industry has mostly gotten in line too, however I never thought about this either, I know the colour on the lipstick isn't really what it's going to look like on my lips, but are these swatches more tuned to white skin tones??
Think about hair dye..... they show 3 hair colours before and after usually, I know it's a bigger box to put pics but does anyone in the beauty industry usually show the same shades on different tones anywhere???
Then I saw Chanel's Baked Earth Misguided post,
read it here!
and thought this is really a nudes trend, maybe they should have marketed it as a "real nudes" trend and take a leaf from Louboutin's book!!!
Clothes come in all shapes and sizes but underwear... nude really has to be nude if it is to be "fit for purpose". I found some that are,
Bjorn Borg
and
Nubian Skin
Come on if nothing else it's a great advertising campaign!!!! Just look at
Benetton
I have to honour Winnie Harrlow, to put Vitiligo out there and normalise it, she truly fits this question, What is Nude??

I hope you found this post interesting, and a bit different my my usual posts!
But I have pay tribute to the designers and photographers to are tackling this concept head on!!!
xx